For game developers of all sizes, from one-person operations to large teams, partnering with the right mediation platform can be the difference between a quick hit and long-term sustainable business; a successful games company and one struggling to survive. That's because the right mediation will provide all the tools needed to propel a game from a passion project into a scalable business.
However, with multiple mediation platforms to choose from, it might not be immediately clear which one is right for their games business. That's why we've compiled a list of the top five features you must have in your mediation platform, without which you'll struggle to really unlock your long-term growth.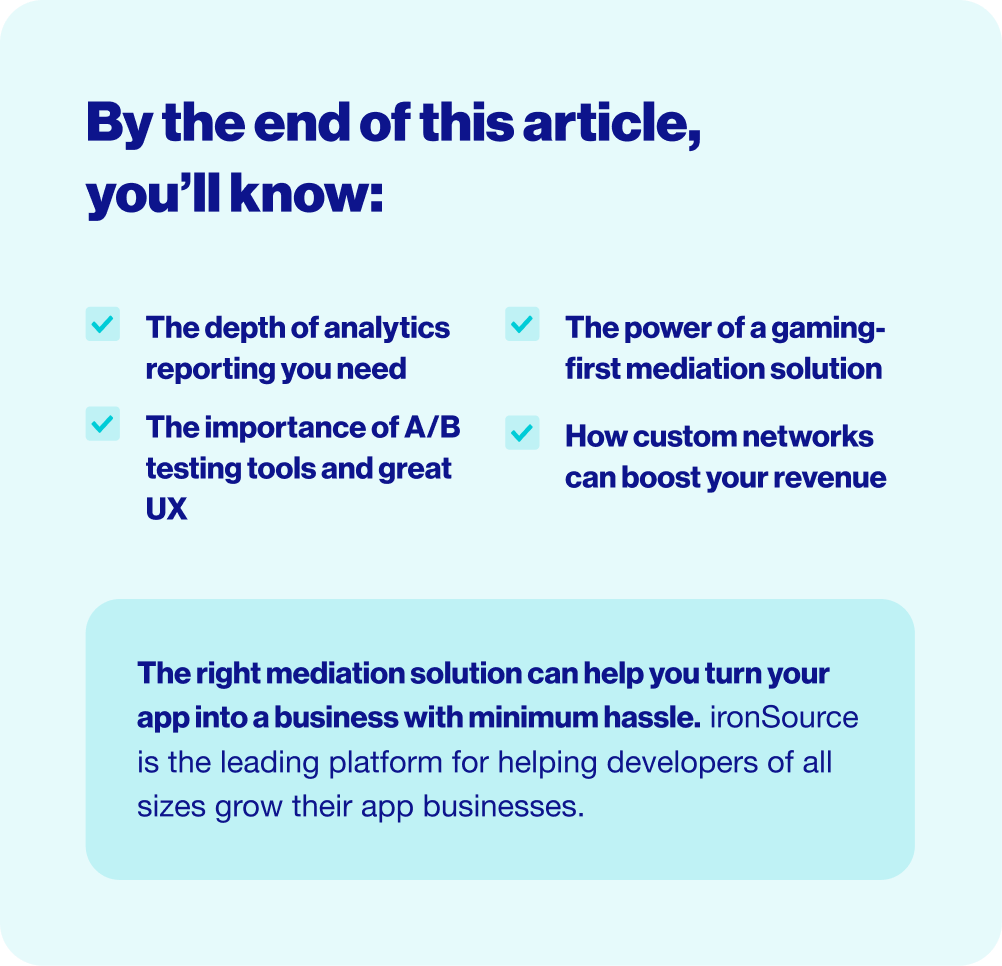 1. Comprehensive yet easy-to-use analytics
Data is paramount to any game's long-term success: it's the best way to identify what's working and what's not, and is the guiding force behind meeting your KPIs and making important strategic decisions. 
In today's market, there is a large number of metrics that can be tracked to measure game health, and granularity is key. It can take a lot of time and resources to build internal dashboards, which is why your mediation platform should provide access to multiple different analytics reports that provide a holistic understanding of your game's performance on both the UA and monetization sides. 
Here are three reports you need from your mediation platform:
User activity reports
User activity reports are key to understanding how users engage with different ad placements and their impact on your KPIs. 
If, for example, you've added a new rewarded video placement to your game, or increased the frequency of your interstitial ads, you need to keep a close eye on the impact of such changes on key metrics like ad engagement rates, usage rates, ARPDAU and ARPDEU. 
This way, you know just how to optimize your ad monetization strategy to maximize your revenue while ensuring the best user experience. 
Random Logic Games, for example, used the cohort reports to analyze ARPDAU and engagement rate at the ad unit level. CEO Andrew Stone said:
"It's a great report to know if your current strategy or testing is effective."

-  Andrew Stone, CEO, Random Logic Games
Cohort reports
Cohort reports are another crucial component of analytics, and are a must-have in your mediation analytics dashboard. A cohort is a group of users that perform a certain sequence of events within a particular time frame. For example, a cohort on the ironSource analytics dashboard represents a collection of users that installed your app, and triggered an app launch on the same day.
Cohort reports provide insight into the full lifecycle of different cohorts of users and let you instantly see the impact of any changes made to your game design or ad monetization strategy. For each cohort of users, you can track the effect of these changes on retention (D0, D1, D7, D30), average revenue per user, the number of impressions per user, engagement related metrics, and more. Without this information, you'll lack a truly holistic view of your game's metrics, which could lead to misinterpretation of performance data and harm the future optimization of the game. 
Homa Games used ironSource's mediation platform and cohorting reports to identify trends in user behavior and make game design changes accordingly. 
"ironSource provides us with all the functions of a typical mediation, plus highly detailed cohort reporting, which gives it a great edge over other platforms."

- Vincent Hart de Keating, Co-Founder and Managing Director at Homa Games
Bidding reports
With bidding quickly becoming the default monetization method for game developers of all sizes, having a dedicated in-app bidding report directly in your mediation dashboard is also key. Like with any new technology, and especially one that automates manual operations, it's important to keep as much control as possible and get full transparency into its performance. 
The key metrics you need to track are ARPDAU, bid rate (the percentage of times that a bidding network chooses to participate in the auction), win rate (the percentage of times a bidding network wins the in-app bidding auction and gets to load the ad), and render rate (the percentage of times a bidding network bids in the auction and then serves an impression).
By adopting a data-first approach, you'll be better positioned to optimize and manage the automated setup, make smart decisions for your monetization strategy, and communicate efficiently with your ad network partners.
Without access to these three reports through your mediation platform, you can't fully measure, control, and optimize your game's health, and in turn you won't be able to fully maximize its potential as a business.
Read our blog post about the 4 KPIs to track in order to optimize your bidding strategy
2. A/B testing suite
So you have a mediation platform that provides granular data about your game's monetization performance. What do you do with that information? That's where A/B testing comes into play - and it's one of the most important practices you can do through your mediation platform to scale your games business.
A/B testing is a way to put data insights into actionable steps for improving your game's monetization performance. Your best chances for success are with a mediation platform that offers a robust selection of different A/B testing tools, so you can optimize multiple different parts of your game operations. 
Whether you want to quickly test the impact of in-app bidding on your revenue at the click of a button, easily test changes in your waterfall settings (like different countries and instance pricing), or experiment with adding new ad placements in your game like introducing interstitials - make sure you have the possibility to do so directly on your mediation platform. 
Learn about the different A/B tests you can do with ironSource
3. Gaming-first platform
A successful monetization strategy requires an array of growth technologies, from waterfalls and in-app bidding, to segmentation and A/B tests. Choosing a gaming-focused mediation platform built by game growth experts ensures you're accessing the best tools and best practices for you - with solutions built specifically for game developers. That means getting access to content, events, benchmarks, KPIs, and dedicated support geared towards exactly what you need to turn your game into a profitable business. 
For example, ironSource was ranked a top network for game developers by Appsflyer and consistently develops products specifically with game developers in mind - from waterfall management and in-app bidding, to A/B testing and advanced analytics reporting.
4. Easy to use
As a game developer, you want your mediation platform to be easy to use whether you're a rookie or a seasoned pro. Some leading mediation platforms require a lot of know-how to fully make the most out of their features, and need you to use and master multiple different services simultaneously. However, that doesn't provide a good UX for developers who might not have the time or resources to learn. 
After all, it's not ideal to have a long learning process before reaping the rewards of mediation - the best mediation partner will provide an intuitive, accessible UX with everything you need to grow your game in one place, immediately.
A mediation platform that ticks all these boxes will increase your chances of developing a profitable games business over the long-run. In such a fiercely competitive market, gaining any kind of leverage - such as choosing a mediation platform primed to help you succeed - can go a long way.
5. Ability to add custom networks
Some mediation platforms let publishers access demand from the leading ad networks. But, there are many other ad networks out there that can not only help boost revenue, but also serve ads from niche advertisers that are relevant to your users. 
That's why it can be a great bonus partnering with a mediation platform that gives you the freedom to integrate any network you want to your monetization stack.
You can do this by developing your own custom adapters and sharing configuration guidance with your mediation partners. The key things to look out for are ease-of-use - you want the integration process to be intuitive and hassle-free - and in-depth analytics, so you're able to get revenue, impressions, engagement rate, and more KPIs for your custom networks.